News
2018
◉The Launching of Chinese Contemporary Art Tasmania Inc. / 塔斯马尼亚"中国当代艺术协会" 揭幕活动
Time: 24 Oct. 2018, 5.00pm – 7.30pm
Location: Contemporary Art Tasmania 27 Tasma St, North Hobart TAS 7000.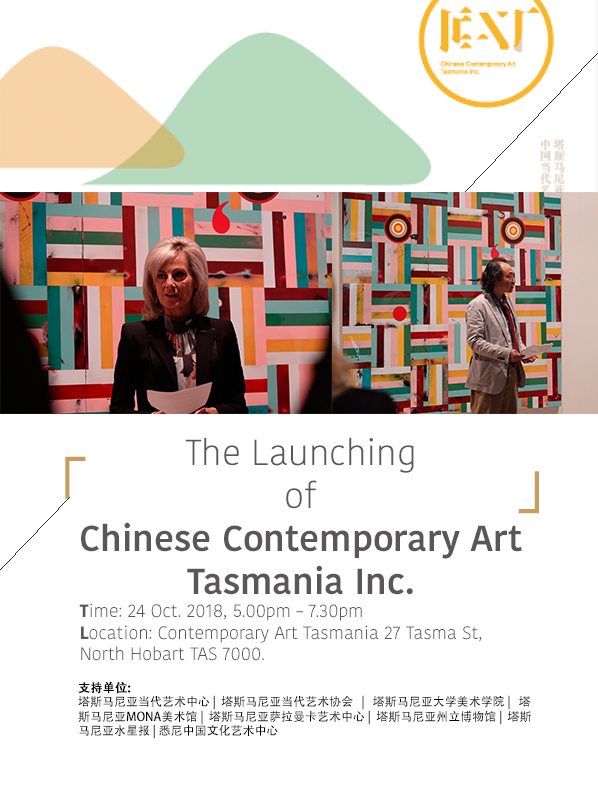 Chinese Contemporary Art Tasmania Inc. (CCAT INC) was officially Launched by the Minister for the Arts (Tasmania) the HON. Elise Archer MP at Contemporary Art Tasmania (CAT) on the 24th Oct 2018. Other honourable guests were the Leader of the Opposition (Tasmania) the HON. Rebecca White MP, the Rt Hon Lord Mayor of Hobart Alderman Ron Christy, the Mayor of Clarence Alderman Doug Chipman, Alderman Bill Harvey of Hobart City Council and Leading scholars in Chinese Contemporary Art Prof Dr Paul Gradston and his wife Dr Lynne Gradston.
The president of CCATINC, Chen Ping and Prof Dr Paul Gradston delivered the speeches.
The launch was well received and supported by the Tasmanian art community, among the attending representatives were Chair of CAT Mr Elvio Brianese, Director of CAT Mr Michael Edwards, Director of Tasmanian Museum and Art Gallery Ms Janet Carding, Director of Queen Victoria Museum and Art Gallery Ms Tracy Puklowski, and CEO of Salamanca Arts Centre Mr Joe Bugden.